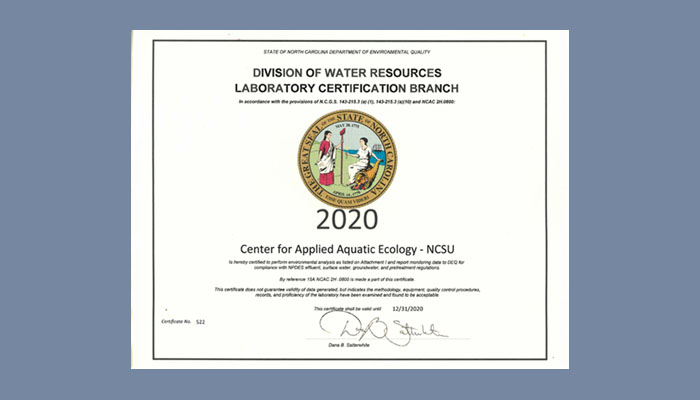 The Water Quality Laboratory
The Water Quality Laboratory is state-certified to quantify key nutrients (nitrogen, phosphorus, total organic carbon), suspended solids, bacteria and chlorophyll a in freshwater and estuarine samples. This laboratory provides analytical support for assessment of potable water supply reservoirs in North Carolina, and for the long- term monitoring of the Neuse River Estuary (CAAE's Neuse Estuary Monitoring and Research Program, NEMReP), including pre- and post-sampling of major storms.
The CAAE provides low cost, high-quality analytical services to students and research programs upon request. Please contact our lab manager for further information. Learn more about our support to students, and their various research projects.
Certified Parameters – CAAE
Parameter
Method(s)
Year Certified
Chlorophyll a
EPA Method 445.0
2004
Fecal Coliform Bacteria
Std Method 9222D (MF)
2010
Enterococci
ASTM Method D 65-3-99 Enterolert
2010
pH
Std Method 4500 H B
1995
TSS (Residue, Suspended)
Std Method 2540D
1995
Ammonia-N
Std Method 4500 NH3 H
EPA Method 350-1
1995
Total Kjeldahl N
EPA Method 351.1
1995
NO2–N + NO3–N
Std Method 4500 NO3 F
EPA Method 353.2
1995
TP
Std Method 4500 P F
EPA Method 365.1
1996
SRP (orthophosphate)
Std Method 4500 P F
EPA Method 365.1
1995
TOC
Std Method 5310B
2002
Additional parameters analyzed
(no state certification program available)
Silica
Std Method 4500 SiO2 F
Urea
Parsons et. al. (1984)
Analytical Laboratory Usage Rates
NC State University Center for Applied Aquatic Ecology Analytical Laboratory Usage Rates (within the UNC system) – Effective 09/01/2019.  These rates are for non-federally funded grants only.
| Analysis (State-Certified) | Cost Per Sample |
| --- | --- |
| Ammonia Nitrogen | $15.50 |
| Chlorophyll a | $27.50 |
| Nitrate + Nitrite Nitrogen | $16.00 |
| Orthophosphate | $20.00 |
| Total Kjeldahl Nitrogen | $18.50 |
| Total Organic Carbon | $28.00 |
| Total Phosphorus | $15.00 |
| Total Suspended Solids | $16.00 |
| Enterococcus | $33.00 |
| Fecal Coliform | $33.00 |